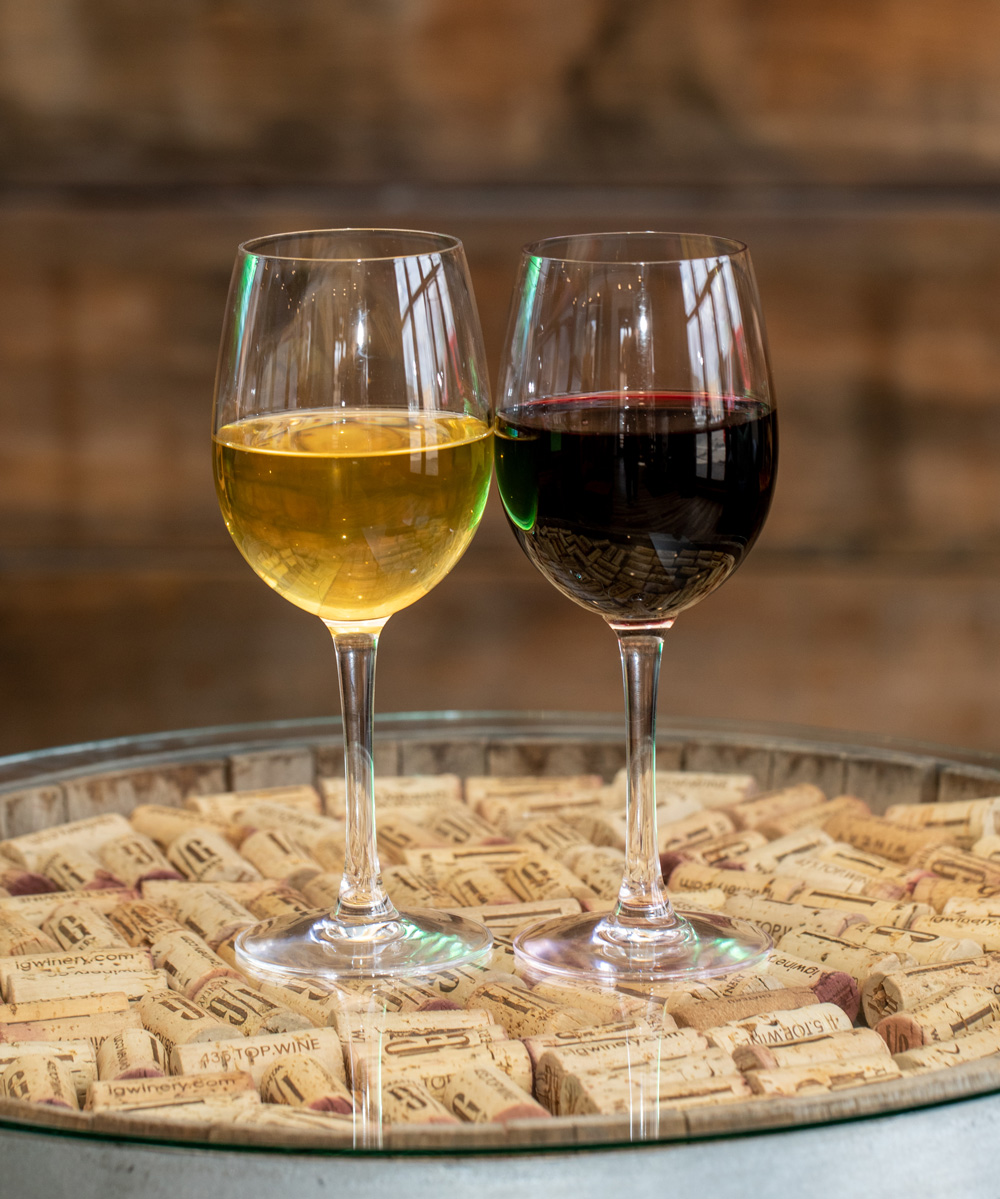 Riesling | $11
Peach, Citrus & Green Apple
Viognier | $14
Blossom, Pear & Caramel
Allure White Blend | $9
Apricot, Toast & Vanilla
Roussanne | $16
Vanilla, Hazelnut & Caramel
Whisper Rosé | $10
Strawberry, Peach & White Pepper
Alicanté | $16
Ripe Plum & Sweet Tobacco
Pinot Noir | $15
Cherry, Mushroom & Forest Floor
Tempest Red Blend | $11
Raspberry, Eucalyptus & Oak
Holiday Edition Tempest | $16
Raspberry, Sugar Cane & Spice
Cabernet Sauvignon | $14
Black Cherry, Blackberry & Oak
Bourbon Seduction | $15
Dark Ripe Fruits, Caramel & Spice
Seduction Red Blend | $9
Cherry, Licorice, Blackberry & Smoke
Petite Syrah | $19
Blackberry, Cocoa & Toasted Oak
Tempranillo | $17
Cherry, Cocoa, Leather & Light Oak
Mourvèdre | $19
Black Pepper & Dark Ripe Fruit
Full Moon Love Wine | $15
(Port Style) Raisin & Fig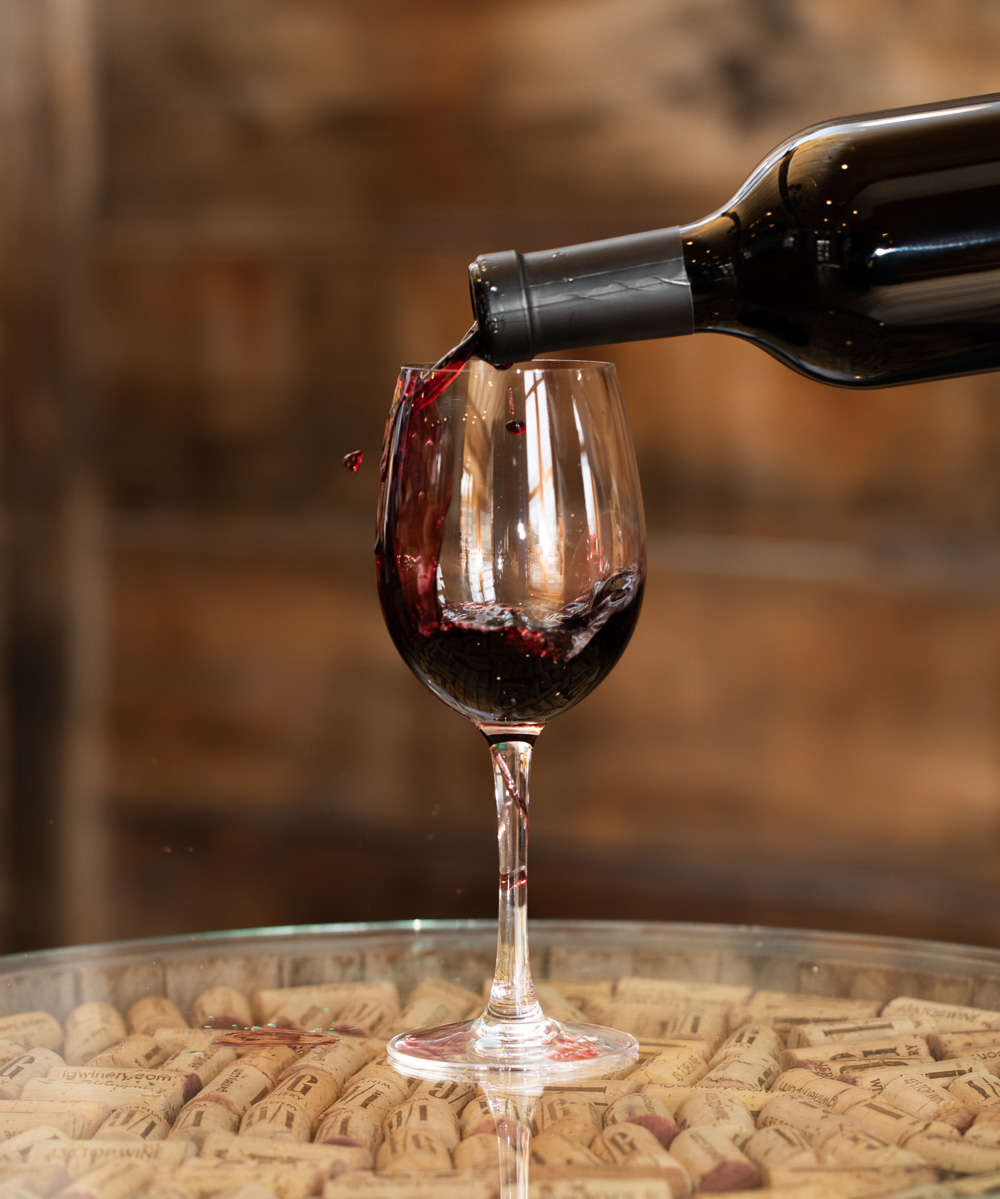 White Flight | $20
Your taste buds are sure to soar as we take you on a tasting journey through our light, crisp wines and into our refreshing rosé. With this flight, you get to experience four different one-ounce pours of our signature white wines.
Red Flight | $20
Tantalize your taste buds with four different one-ounce pours of our signature red wines. From soft and elegant, to hearty and robust, our tasting stewards will walk you through a flight catered to your specific tastes.
Mix & Match Flight | $25
Experience the best of both worlds with two one-ounce pours of our white wines, two one-ounce pours of our red wines, and a one-ounce pour of our Full Moon Love (Port Style) dessert wine paired with a piece of dark chocolate.
Private Barrel Tasting
Designed for the inquisitive palate, our exclusive Barrel Room Tasting will give you a unique, one on one experience with one of I/G Winery's sommeliers. While enjoying small bites, you will learn wine tasting techniques as you sample 5 of our unique wines—the last of which will be pulled directly from a barrel to allow you to experience wine in its purest form!
This experience is only available through reservation by calling I/G Winery at (435) 867-9463, and is offered at $65 per person for Non Wine Club Members or $35 per person if you're an I/G Winery Wine Club Member.
The Blue Boob | $9
Rum, Blueberry Vodka, Blue Raspberry Flavoring & Lime Soda
The Starter Wife | $10
Vodka, Chambord, Vermouth & Pineapple Juice
Maple Manhattan | $13
Bourbon, Full Moon Love Wine, Vermouth, Maple Syrup & Bitters
Caitie's Hard Iced Tea | $15
Stout Black Tea, Bärenjäger Honey Bourbon, Kentucky Bourbon, Limoncello & Bitters
I/Gin & Riesling | $10
Gin, I/G Riesling, Pear Liquor, St. Germaine & Bitters
I/G – Tini | $9
Vodka, Vermouth & Olive Brine
The Arrogant Bastard | $15
Cognac, B&B, Vermouth & Bitters
Sweet Apple Spice | $15
Tequila, Vermouth, Apple Brandy, Fernet-Branca & Maraschino Liquor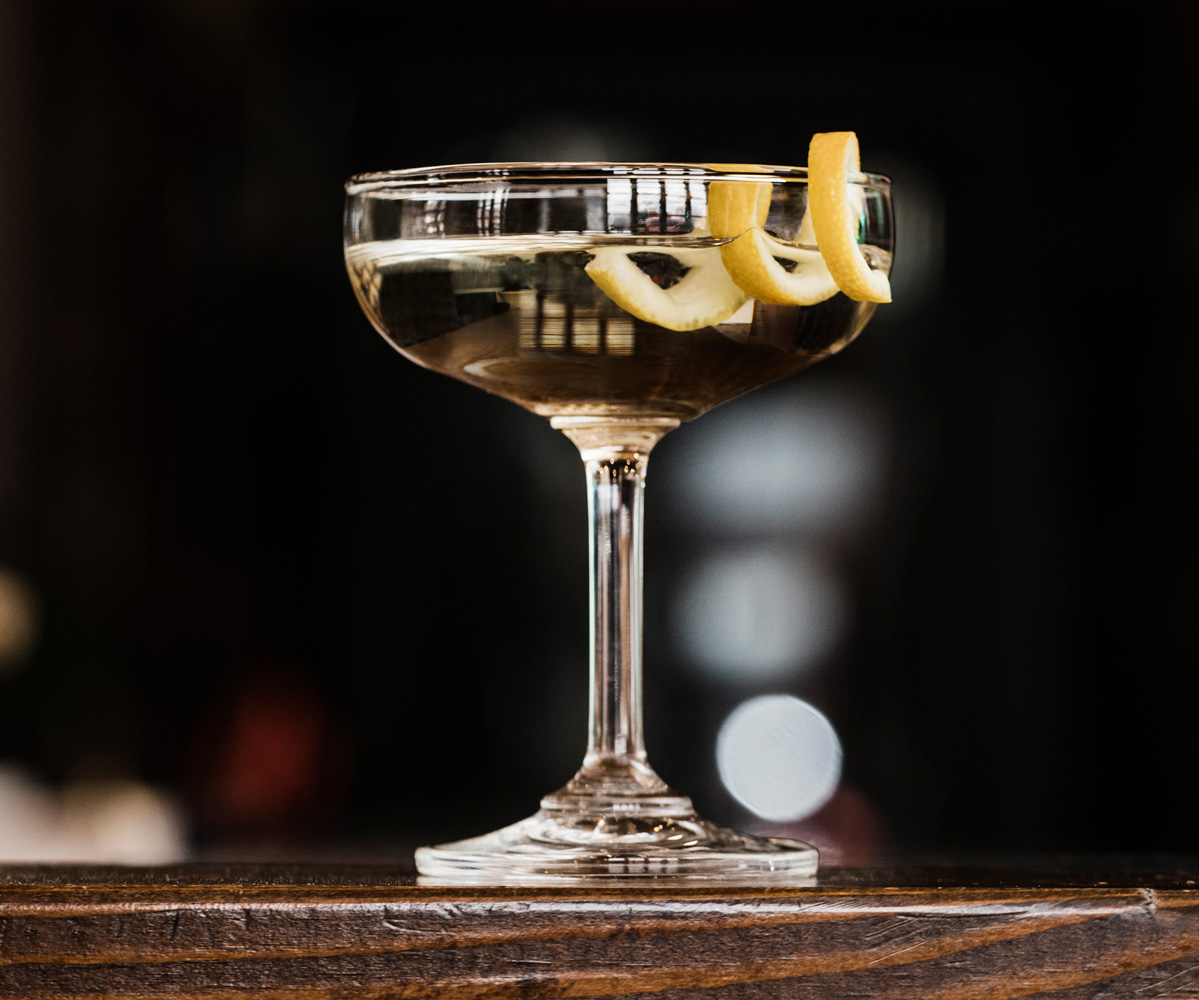 May's Speciality Cocktails
Misinera | $12
Don Julio Anejo Tequila, Grand Marnier, Blackberry Puré, Lime Juice & Simple Syrup.
Sandia Susurro | $14
Don Julio Anejo Tequila, Watermelon Vodka, Grand Marnier, Whisper Rosé, Lime Juice & Simple Syrup.
Ay Dios Mío | $14
1800 Tequila, Fire & Celery Bitters, Simple Syrup, Lime Juice, Grand Marnier and Mezcal.
Don Julio Anejo Tequila | $12
Elijah Craig Small Batch Bourbon | $8
Bookers Kentucky Bourbon | $12
Highland Park 12yr Single Malt Scotch | $18
Benedictine & Brandy | $8
Silver Reef – Mexican Lager | $7
Silver Reef – Red Ale | $7
Silver Reef – Golden Lager | $9
Silver Reef – Coffee Stout | $9
Silver Reef – Planet Utah | $9